Women in Boro 2018 - Elizabeth Heikka-Huber
Elizabeth Heikka-Huber is a master of the hollow form. We were able to get a hold of some of her pieces and to discuss art, surrealism and glass. Here it goes.
What is the best thing you like about being a boro artist and a flame worker?
I like the freedom of boro,, that I am able to work on pieces at my own pace. Some pieces I can make fast and others can take me months to complete, them being only the components of a larger project. I love that being a flame worker enabled me to work from home so that I could continue to grow my business while raising my now 17 year old daughter, Marina. I was fortunate to find a few wholesale distribution trade shows early in my career to become a mail order artist, and that allowed me to stay at home most of the time.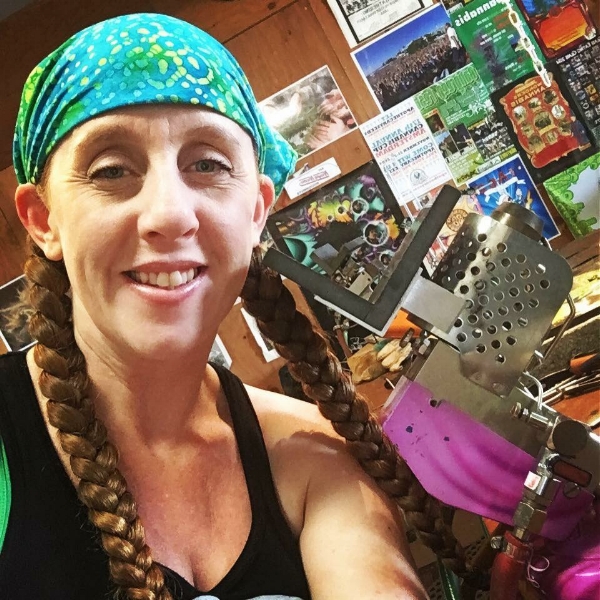 My own passions in glass are for realism and showing movement…
How long have you been a glass artist?
I have been a glass artist for 20 years.
I started in the Hot Shop at Shasta College in Redding, CA in 1998. In the end of '99 I got a working for Erin Little's boro production studio, also based in Redding area. By 2001 I started my own glass company, finally taking on the name Lisa's Pieces in 2002.
Tell us about the horse heads? Why horse heads?
My grandfather Earl Heikka, was a famous western art sculptor from Montana, of Finnish heritage. His works can be seen all over the country including the Smithsonian, The National Cowboy Hall of Fame, The Rockwell Museum, and many more in addition to private collections. My father, Mike Heikka, was also a successful western art sculptor born in Montana but raised in Long Beach, CA. Their abilities in sculpting made me shy away from trying my hand at it for many years, but in glass it felt different. When I finally tried to sculpt a horse, I was very inspired by my heritage to see how detailed I could take it in, specifically with boro glass. I am proud to say after about 5 years making glass horses, they are starting to look more and more realistic. My mother is also a celebrated western art sculptor as well as more contemporary works. Needless to say sculpting is very much in my blood.
Your work is super prolific, from fruit and vegetables to hollow female form. How does the change between these different themes happen?
I have made my business by accepting custom glass orders, so many different unique orders. The variety of my portfolio is a direct reflection of these projects. I have now started to call them collaborations with my collectors. I really take making custom work seriously and do detailed sketch work with the clients to make sure we are both on same plane of creation of the ideas. Its kept me in the glass industry, and pushed my abilities in ways I never expected. My own passions in glass are for realism and showing movement in the pieces I sculpt whether birds in flight, bee's pollinating flowers, women dancing or horses mid-stride.
Speaking of sur-realism, I am also a Rene Magritte fan. I love the work of Jeaneen Carlino and Liev Fagereng who are our contemporaries and live on the West Coast as well. How do you think surrealism fits in our daily lives?
MC Escher, Dali, Magritte, Kahlo, and Steadman are some of my favorite 2D artists of all time, each represents a different aspect of the Surrealism movement to me. I feel comfort in the chaos of the works in surrealism, that's the best I can describe how I have been influenced. I think today, these great artist are often being taken advantage of by marketing and advertising of things they themselves would never have endorsed.
Who are some of your favorite artists that are still alive, glass or otherwise? Some of my favorite artists in glass - Banjo Glass, Janis Miltenberger and Lucio Bubacco are by far my favorite in lamp working right now. Martin Janecky in the hot shop and of course Nancy Callan.